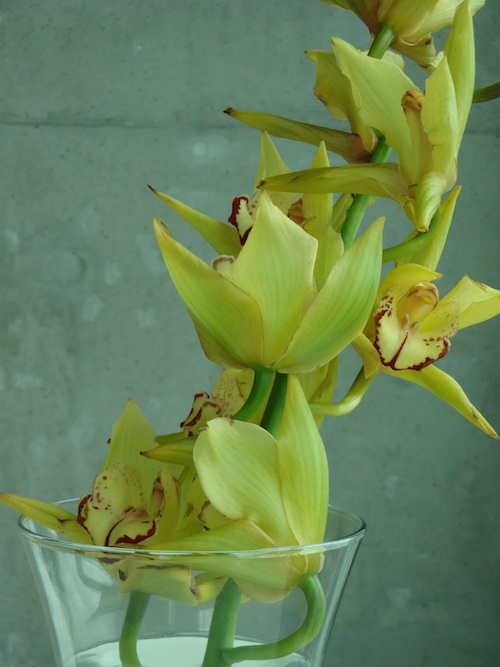 "Don't judge a book by its cover!"  A classic line of mothers and fathers everywhere (at least where I grew up) reminding children to remember well, not to judge and play nice.   Sometimes the candy wasn't as tasty as the wrapper made it look and sometimes the mean dog down the street just had a large bark.  But, let's face it … I still begged for the candy and ran away from the dog.  Learning lessons takes time.
Sitting at our kitchen table yesterday I realized … something smelled funky.  Grant brought home flowers (I was so excited … it's not even Valentine's Day) and they were amazing in our world of color neutrality, for about 3 days.
For some reason, I've been gifted with a sensitivity to smell.  It could be my super power!  Or, maybe it's genetic.  In any case, I was on full alert, having burned bacon, potpourri and then fumigating with febreeze just a few days prior.  Sitting straight, cereal in hand, Grant got the head tilt and, "does something smell strange?"  After some searching we determined the flowers were the source of the problem.
SO, I'm letting you in on the beautiful dilemma.  I wanted so badly to keep them because they looked amazing, but the smell was already of rot.  The outside looked great, but we could tell that the inside was problematic at best.
Aren't we like this often?  We're hurting on the inside, walking around smiling pretending everything's ok.  We're stressed out, worn out, maxed out, and we stink inside from not allowing Jesus to fill us with His LIFE.  But, we arrive at church on Sunday, pray with our small group and get all geared up to not meet Jesus the rest of the week.  We just don't want to get rid of the sin that plagues us.
But, Jesus wants ALL of us, ALL the time! And He wants to whisper secrets in our ears that inspire Life in us that no other person can give.  We can't get it from home group, can't get it from the pastor, and we can't get it in a service full of music.  He has a destiny for us and HE wants to reveal HIS plan!  You may have to stop smiling … you may smile more, … just be REAL with JESUS!